Spinifex Live Dates
Spinifex will be DJing the New Mexico Brew Fest from 11:30am to 2:30pm. Â I will be spinning a large variety of music as I can do….
NEW MEXICO BREW FEST
SATURDAY, OCTOBER 1, 2016
1-6 PM • Villa Hispana at EXPO New Mexico
EARLY ENTRY TICKET HOLDERS: 11:30AM
Spinifex Funkalicious Dance Party on New Years Eve (Saturday 12/31/11) at Second Street Original 9pm free and Superfunk dress is required!!!‏
Santa Fe Ski Team 80's night Gala December 8th @ El Meson Santa Fe
Private Party June 18th
ROOFTAPAS June 4, 2011
cocktail jazz funk and more on the Hyatt Regency rooftop bar this Saturday from 7 to 10pm.
Thursday April 28th Santa Fe Brewing Company support for Sierra Leones Refugee Allstars
I will get be warming up the dance floor spinning Afro Funk before the Refugee's hit the stage. 7pm Start
A Dance Party Evening of Fela and Afrobeat 9pm @ Second Street Brewery Railyard Saturday April 2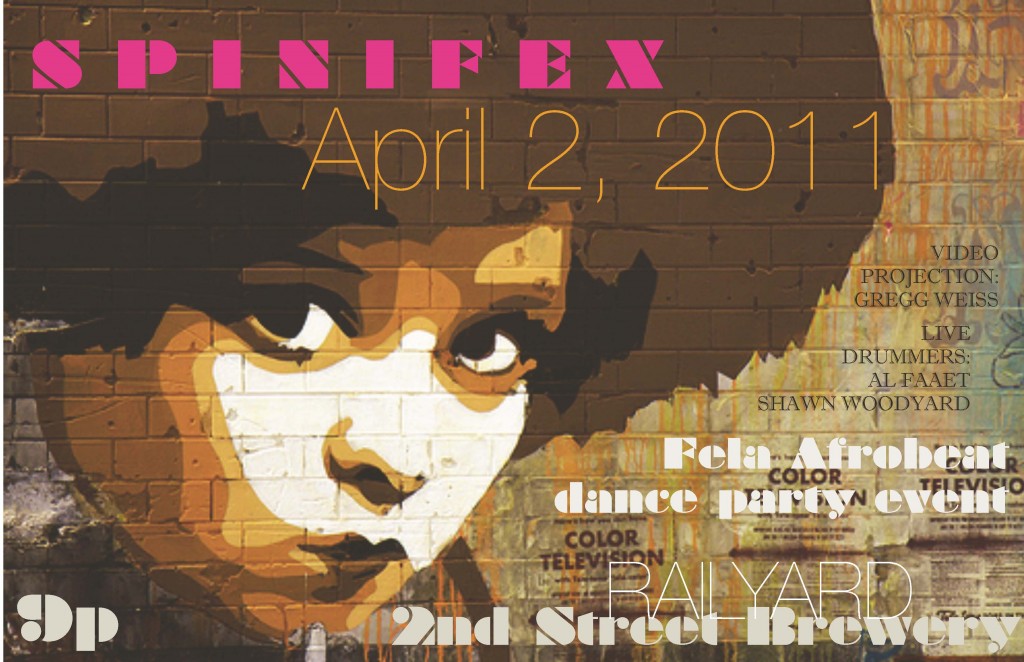 March 5TH DJing under the moniker of Galvespin for the Texas Party 2011 @ The Albuquerque Press Club 201 Highland Park Cir SE
Dec 10 Local IQ presents The Funky Sweater Get Down: support for The Big Spank ,Felonious Groove Foundation, Peanut Butter Johnson at the Launchpad 618 Central Avenue Southwest Albuquerque
Nov 10 Corazon 401 S. Guadalupe St. Santa Fe, NM, 87501 support for The Aggrolites
Oct 23 Private Party
October 9, 2010 The Breast Wishes Fundraiser @ the CCA 1050 Old Pecos Trail Santa Fe 9 to 11:30 the Tit print booth
August 19 @ Corazon 401 S. Guadalupe St. Santa Fe, NM, 87501 support for The Budos Band
June 18th @ La Stazione 530 South Guadalupe Street Santa Fe, NM 9pm till close
May 7th @ La Stazione 530 South Guadalupe Street Santa Fe, NM 8:30pm till close
February 12th 5-8pm – 1st Annual Group Exhibition and Benefit Curated by Bang – Jay Etkins Gallery – 703 Camino de la Familia, Santa Fe
January 23th 2010 @ The Original Second Street Brewery 9:30pm till close
DJ Services
dbmuzikatmsndotcom
505.988.7496
spinifex = spinfx = david barsanti = spinfx = spinifex = david barsanti